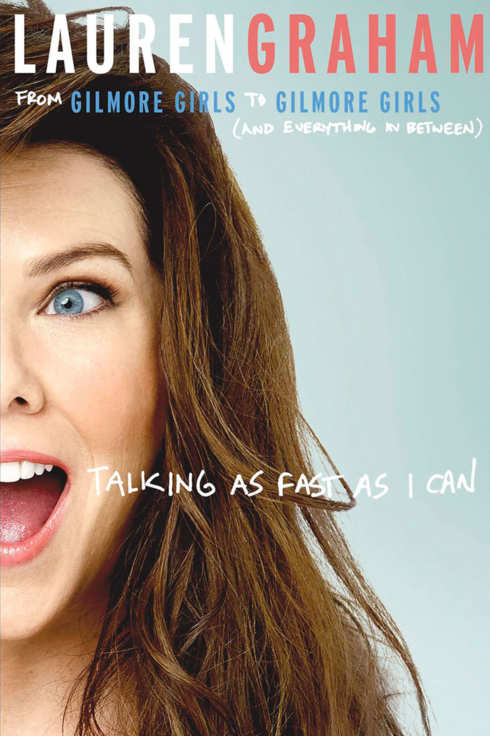 I've been a fan of Gilmore Girls since grade-school, when I used to come home and watch it every day at 4 when it aired on what was then ABC Family. When I found out that Netflix was doing a revival series, I was EXCITED, but I had to make sure to rewatch the entire series first to make sure I hadn't forgotten anything. I had definitely forgotten things. But I finally got around to watching the original series in its entirety and then I watched "A Year in the Life."
Not long after "A Year in the Life" was released, I stumbled upon this book through my library. But I knew I couldn't read it just yet because I hadn't finished the entire series. So I added it to my to-be-read list and carried on. Not long ago, I rediscovered it and decided to take it for a spin since I knew what happened in the show and there would no longer be any spoilers.
It's weird for me to think that Lauren Graham is actually named Lauren. When I think of this actress in real life, I either think of Lorelei or I think "LaurenGraham" as all one word. So it took me aback a little to hear LaurenGraham referring to herself as Lauren in this book.
But anyway, in the book, Lauren (it's still weird) details her road to fame, which included some theater stops and seems to have been propelled by "Gilmore Girls." Which is fine by all of us. I love seeing Lauren Graham in movies and on TV shows. One of the next shows I want to watch is "Parenthood," where she plays Mom/Sister in the big ole Braverman family.
I think the best part about this book was hearing all the insider secrets from "Gilmore Girls," which is probably the biggest reason I picked it up. I also found that Graham had already published a book prior to this memoir, called "Someday, Someday, Maybe." It has already been added to my list. And apparently she is publishing a new book sometime next year. Lots to look forward to.
Next up is Misty Copeland's memoir, "Life in Motion: An Unlikely Ballerina," and working on "The Casual Vacancy" by J.K. Rowling. I also checked out "The Royal We" by Heather Cocks and Jessica Morgan, because LaurenGraham mentioned in her book that she was working on adapting it into a screenplay and I am quite susceptible to books mentioned in other books.
That's all for now,
Maegan