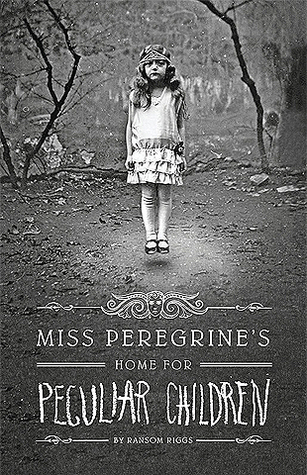 This book has been on my radar for a while, but honestly, I was a little scared to pick it up. The covers of this series are pretty creepy and I really didn't know what to expect, but I figured it if was in the young adult section then it couldn't be just outright horror-filled. And it wasn't, just some startling photos sprinkled here and there.
Miss Peregrine is a woman/ymbryne who watches over "peculiar" children, which are kids who have special abilities thanks to genetics or some such. Emma can create fire with her hands, Millard is completely invisible, Olive can lift right off the ground if she is not weighted down, and Hugh has bees living in his stomach. There are a few others too, and they have all been living in Miss Peregrine's time loop, where it is always September 3, 1940, over and over again.
Enter Jacob Portman who discovers the peculiars after his grandfather whispers a cryptic message to him on his final breath. Jacob and his dad travel to a mysterious island that used to be home to Grandpa where Jacob tries to find clues as to his grandfather's early life. He stumbles upon Emma and Millard and follows them right back into the time loop.
By the end of the story, the kids are being hustled off the island while hollows (super evil death creature things that prey on the blood of the peculiars) and wights (basically a hollow's sidekick) chase after them and attempt to kidnap Miss Peregrine.
It's a very interesting book and I think the use of old photos is really effective throughout, even though some are a little creepy.
I've already started the second book in the series, "Hollow City." It's longer than the first but now that I'm invested in the series I'm excited to find out what happens.
For now,
Maegan